If you've started noticing that your home isn't as warm as it used to be, it might be time to start thinking about getting a new boiler. Before you do anything; though, there are some things you should know about different kinds of boilers and how they can help keep your home warm through the winter months. To help you figure out whether now is the perfect time to get a new boiler; read this blog to learn more.
How do I know it's time for a new boiler?
Boilers are one of the most intensively used household appliances. But faults can go unnoticed unless the heating suddenly stops working or your water doesn't warm up.
Boiler faults aren't always obvious; here are 5 warning signs that your boiler needs replacing:
Radiators take longer to heat up
Is your radiator stone cold or does it take ages to heat up? Most modern boilers are designed to work quickly so a sluggard radiator could be an early sign that the boiler is past its use-by date.
Although it may just mean that your radiator valves need bleeding; it might also signify that there is sludge clogging up your central heating system. This in turn results in blockages and cold spots on your radiators. Over time; dirty water will clog your boiler and cause big problems.
 The boiler is giving off a bad smell
A boiler will not emit a foul odour, even if it is malfunctioning. If it does, it needs to be dealt with immediately by a professional. Carbon monoxide is extremely hazardous to you and your family. Although the carbon monoxide itself is odourless; the leak is causing a foul smell. Any smells that seem faint could be an indication of a CO leak.
Your energy bills are increasing
A heating system that is getting older often loses its efficiency as it ages, resulting in higher bills. The energy efficiency rating of your boiler can easily be read from its ErP energy label; which has a seven-point colour scale, from dark green (most efficient) to red (least efficient).
Your boiler is leaking
Puddles might indicate that internal parts have broken down or are in the process of disintegrating in your boiler. The best action is to take immediate action if you see puddles around it. As well as rust and corrosion; leaks can damage your home's structure, and will cause your heating system to be inefficient. There could even be waste heat.
Your boiler is making funny noises
Your boiler will make some noise when it starts up, but the most common sound should be a low, steady hum and not any banging, clunking or whirring. There could be any number of issues from a broken valve to heat pump malfunction or general wear and tear.
If I need a new boiler, does it make sense to take the opportunity to upgrade to a bigger one?
Generally speaking, you'll need a bigger boiler if the one you're replacing wasn't sufficient to heat your entire house and supply your hot water.
However, bigger doesn't always mean better; a new boiler that is too powerful for your setup means spending more than you need and wasting energy. Regular boilers may experience this problem; an oversized boiler will run intermittently rather than continuously.
As a result of this off/on cycle, the boiler may deteriorate more rapidly, parts may need to be replaced sooner, and the boiler may not last as long as it would otherwise.
How do I know it's the right set up for me?
This can be an expensive purchase, so you want to make sure that you are paying for the correct one for your budget and your house – one that will meet your heating and hot water needs for many years. It is good to know the key factors that determine the type and size of boiler, although the specialists of installers will do this with you.
Houses that have a lot of rooms have multiple radiators; so their power demand is higher. For example, each radiator might be about 1-2 kW for a boiler. Typically, one- and two-bedroom flats need a boiler output of around 12-28 kW. Properties with three or four bedrooms typically require an output of 18-35 kW, and a home with more than two bathrooms needs a boiler with a larger output.
Nevertheless; it has a bearing— the age of your home, the layout and its occupants. For example, multiple bathrooms across two or more floors would necessitate a sufficiently powerful regular boiler. Still, in small houses or in homes with lots of occupants that use lots of hot water all at once, a regular boiler might be more practical than a more environmentally friendly combination boiler. But an older, poorly insulated house might need a more powerful boiler to keep the temperature high if it doesn't keep heat in.
How much will a new boiler cost?
In the same way that not all cars are the same price and some are more expensive than others, the same can be said for boilers. A higher-performing boiler might be more costly in the beginning, but with fewer energy bills and less maintenance over time; it might prove a better investment in the long run.
More generally speaking, the size of the boiler dictates the cost, as does whether the boiler needs to be replaced or installed in a different location.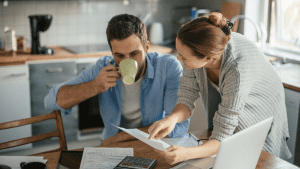 Get a FREE no-obligation quote today!
Can a new boiler actually save me money?
Roughly half your monthly energy consumption goes to heating your home and hot water, according to the Energy Saving Trust. The more old and inefficient your boiler gets, the more you may be spending. Putting in a new boiler could help make your home more environmentally friendly. An average semi-detached home with a G-rated boiler that is upgraded to a more efficient model could save around £200 a year.
If you're thinking about getting a new boiler, why not get in touch and we can work to find the best solution for you.