Air-Source Heat Pumps (ASHP), can be an attractive option to install if you want to reduce your dependence on fossil fuels and lower your energy costs. With the announcement that gas boilers would be outlawed in the future and air source heat pumps being marketed as the ideal alternative; it is natural that people are curious about how much it costs to install one and will it end up saving money in the long run?
What is an air-source heat pump?
Fresh air is pulled into the heat pump by a fan on the front of the unit. It is then compressed and turned into heat. Using electricity, but by using heat from the air; they use less electricity than a traditional boiler- creating renewable energy for your home.
Using renewable sources to heat your home is more sustainable than fossil fuels; they don't produce carbon monoxide, don't contribute towards green house gases or harm the ozone layer; saving you money in the long run!
Is an air source heat pump right for me?
Suitable for many types of homes; heat pumps are the most common type of domestic heat pump, with tens of thousands of installations across the UK. However; there are a few things you should consider before deciding whether it's the right choice for your household.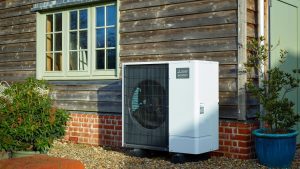 What factors impact the cost to install an air-source heat pump?
The cost varies depending on the size of heat pump, the size of the property, whether it's a new-build or an existing property, as well as whether you need to change the way you distribute heat around your property. Typical costs start from around £10,000
Below we have summarised some of the most commonly cited expenses associated with heat pump installation:
Easiness of installation
Installation costs tend to increase as complexity increases. This is because of the extra work that may be involved in installing a heat pump; such as installing new pipes on your property.
The energy efficiency of the home
You may need a larger air source heat pump depending on the size of your house, but the efficiency of your home will also factor in. That is to say, heat pumps aren't efficient when they're in less-than-fully-insulated buildings. If your house lacks, say; insulation, double-paned windows, or other energy-saving features, it will likely lose a lot of heat.
The greater the heat loss from the house, the larger the air source heat pump needed. It will be necessary to buy a bigger and more expensive pump that will take longer to install.
What has been installed
In many cases, the cost of installing an air source heat pump may also be dependent on your current system, as the majority of air source heat pumps rely on the use of a separate hot water storage tank for hot running water. If you have a conventional boiler or system boiler, all you need to do is replace your old hot water tank with one that's compatible with your pump.
However, if you have a combination boiler, you'll need to install additional plumbing to make the addition of a hot water storage tank possible, and you'll need to choose a suitable location for it. This will make it difficult for installation and cause it to cost more.
Costs of heat pump installation in detached homes…
The typical installation for a detached home costs anywhere from £8,000 to £16,000. If you have a larger home, then your pump installation may be more expensive. They are also more expensive to buy and to install. If you live in a bigger home, the installation process will be more expensive.
Costs of semi-detached and terraced home installation…
Typical installation costs range from £7,000 to £10,000. Even though they are smaller in size, semi-detached and terraced houses will typically be less expensive to install than detached houses, although this may depend on the size of the house. It may also be affected by installation simplicity and the cost of installation could rise if the location is inflexible and the heat pump cannot be easily moved.
Installation fees for an apartment…
Roughly £6,000 to £8,000 is the average installation cost for a single; or multi-resident dwelling. As the smallest property types available; flats and apartments will need smaller and more affordable pumps to satisfy their heating needs. However, the installation of an air source heat pump in a flat or apartment may be more difficult than in a home, particularly for flats and apartments that are located above the ground floor.
What help is out there?
As a result of the Boiler Upgrade Scheme (BUS) that was initiated in April 2022, the cost of installing an air source heat pump may decrease if you qualify for a government subsidy. A subsidy can amount to £6,000 if the right heat pump has been installed. To find out more about how this operates; please read our Boiler Upgrade Scheme quarterly Report by 'clicking here'.
Don't let just anyone install your heat pump
Switched On Yorkshire are qualified and certified as an approved Microgeneration Certification Scheme (MCS) Installer.
Our team of highly professional personnel can talk you through the process and hold your hand every step of the journey; so talk to an expert today!