Heat pumps are far more effective at cooling and heating than any other conventional methods; but they've historically been very expensive to install and use.
As the cost of energy has become prohibitively high in many places; businesses and homeowners have been looking for cheap and efficient ways to cool and heat their homes, businesses, and factories. Heat pumps could soon be more affordable and easier to install as innovation projects get £15m boost.
New report on innovation
By 2025, the pumps must cost the same as fossil fuel boilers to buy and run.
To reduce household fossil fuel use, ministers aim to install 600,000 pumps per year by 2028. In addition to being an efficient, reliable, and low-carbon heating solution; the pumps are a 'proven technology'.
The funding is part of the government's £60 million Heat Pump Ready programme; which will accelerate innovation for reducing barriers to deploying low-carbon technology. The NZIP originated when Chancellor Sunak released his budget and began spending money at a rapid rate; investing in clean technologies that improved communities nationwide and bringing us closer than ever before to becoming an eco-city.
A replacement gas boiler can cost between £1,000 and £3,000; while an air source heat pump can cost between £7,000 and £14,000.
Who else is involved?
The Department for Business, Energy, and Industrial Strategy (BEIS) has confirmed that they have chosen the winning project from this latest round of funding. With over £60 million being invested in the sector to help heat pumps become more affordable and popular. It is hoped these new efforts will create over 300 jobs in manufacturing or installation sectors related to this technology.
This Innovation Fund was designed to complement the government's Boiler Upgrade Scheme; which provides grants for homeowners installing an Air Source Heat Pump (up to £5,000) towards the cost of a new system.
"In light of rising global gas and oil prices, getting low-carbon heating technology into homes is a priority for this government; as it will help households ditch the costly fossil fuels that are driving up bills.
Heat pumps are a proven; reliable technology that uses cheaper renewable energy produced in the UK. We are already bringing costs down through the Boiler Upgrade Scheme and slashing VAT to zero; but by finding innovative ways to make them even cheaper and easier to install. We will help more homes see the benefits even quicker."
How do heat pumps work?
A heat pump gathers heat from outside; moving it inside your home. It uses electricity to do this; but the heat produced is much more significant than the energy used by the unit.
The heat is drawn from the environment in which the heat pump resides; meaning there is no emission of carbon dioxide whatsoever from the heat pump.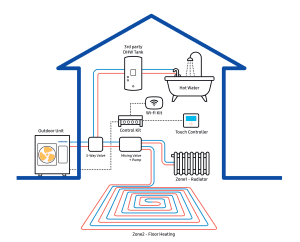 Heat Pumps; 'A proven, reliable technology'
The £15 million stream 2 fund backs 37 small and medium businesses; supporting the creation of more than 300 jobs. This investment comes in addition to the Government's £450 million Boiler Upgrade Scheme; which provides £5,000 grants to homeowners towards the cost of a heat pump, and a zero rate of VAT for installing clean heating measures. In addition to this the program should also help contribute to it's conservation.
Gas and oil prices are at their highest point in decades and while they may seem costly to the individual homeowner; the country wants to focus on switching the homes over to cheaper renewable energy sources.
The home will save in the long-run because they won't be relying on gas and oil that drive up the bills. Heat pumps are a low-carbon alternative to what most of us have been relying on that works more efficiently in homes.

To increase installation rates and make this even more affordable, we need to find ways to make them even cheaper and easier to install.
The £60 million scheme is developing novel solutions to the challenging task of fostering the spread of green technology among people's homes and businesses throughout the UK.
In addition to reducing costs and increasing performance of domestic heat pumps, the project aims to minimise disruption in homes during heat pump installation and develop financial models to support an increased deployment of heat pumps.
Here are a few other projects that are already up and running:
In Harrogate in North Yorkshire, 'stream 2' funding is being used to optimise the running of a heat pump in a household energy system using data from smart meters.
Moreover, a scheme in Truro, Cornwall; is developing heat pump refrigerants that are efficient and ecological.
A project in Thame, Oxfordshire; is studying ways to reduce the costs of installing and operating heat pumps.
Make the switch to a heat pump today!
Switched On Yorkshire are qualified and certified as an approved Microgeneration Certification Scheme (MCS) Installer.
Our team of highly professional personnel can talk you through the process and hold your hand every step of the journey.
Contact us
Making your home more energy efficient shouldn't be hard work.
Let SwitchedOn Yorkshire help you!