Solar PV panels are considered 'permitted developments' and often don't require planning permission. However; exceptions apply and it's best to check with your local planning office for guidance. If you live in a listed building, conservation area or national park, additional restrictions may apply.
What is permitted development?
It is possible to undertake certain work without seeking planning permission. This is known as permitted development rights.
They arise out of a general planning permission granted not by the local authority; but by the Government. Keep in mind that the permitted development rights which apply to many homes, for instance, do not apply to flats, maisons, or other types of buildings. Same goes for residential and commercial properties; who have different allowed construction regulations.
There are some regions of the country, known generally as 'designated areas'; in which permitted development rights are more restricted.
For example, if you live in one of the following:
An area of conservation
National Parks
Beautiful Natural Area
Listed as a World Heritage Site
Norfolk Broads or Suffolk Broads.
In some areas; you don't need to apply for planning permission for certain types of work. Listed buildings also require different requirements.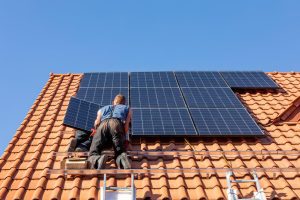 Does this apply to solar panels?
The following conditions apply to permitted development rights for the installation of solar panels.
Except for conservation areas covered in this linked Article; permitted development rights are also applicable to conservation areas. You must apply for planning permission in these cases.
Whenever possible; you should locate the solar panels to minimise their effect on the external appearance of your building; and you should remove them as soon as they are no longer required.
You need only apply for full planning permission (flats) or householder planning permission (houses) to install a solar panel when any of the following apply:
It would protrude more than 20cm from the external surface of the wall or roof slope; when measured perpendicularly
The highest part of the solar panel or equipment will be higher than the highest part of the roof. This excludes any chimney
It would be installed on a wall in a conservation area which faces a highway. This includes roads, paths and public rights of way
Your house or flat is a listed building; or within the curtilage of a listed building. Curtilage means within the garden or grounds.
If your house or flat is a listed building you must also apply for listed building consent.
How can SwitchedOn help?
All new installs require permission from your Distribution Network operator (DNO); however Switched On (Yorkshire) Ltd will apply to your DNO to register your system on your behalf as part of our service.
Also why not talk to our team today about how to make the most out of your Solar PV; by capturing and storing your electricity. If you are at home most days you will use the solar PV directly when using electric in your home; however if you are at work and not using any electric in your home; then consider the option of a battery storage to work along side your Solar PV. The battery will store the electricity generated by solar PV so you can use the stored electric when you arrive home or when the light go dark.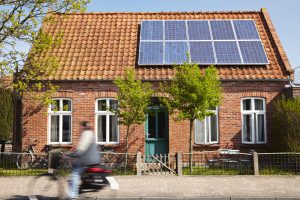 Can I get confirmation that I do not require permission?
You can obtain a lawful development certificate to certify that your proposed solar panels comply with the law by 'clicking here'.
How do I apply?
You can apply via the national planning portal; to find out what information is needed for your application; here at- making a planning application.
Contact us
Wanting further information on installing solar panels; to generate your own renewable electricity and reduce your energy bills- speak to one of our experts today!