If you're thinking of buying a new boiler, there are several different types to choose from; condensing boiler, standard boilers, combination boilers and so on.
What you ultimately decide on depends on factors such as the size of your home and what kind of heating system it has in place at the moment.
Read on to discover pros and cons for the various types of boiler so you can decide what would be best suited to your home and your family's needs.
Electric vs Gas: which is the best boiler for me?
Understandably; people are often a little confused about what type of boiler is right for them. After all, with so many out there, it's hard to know where to begin. If you want to purchase a boiler; you have to take into account what kind of fuel you would want to use.
Two of the most popular types of fuel are gas and electricity, and we will provide you with information on each to help you make an informed decision.
What is a gas boiler?
In general; gas boilers use natural gas to provide heat and hot water to your home by bringing water close to gas flames and supplying the power needed. The hot water heats up and goes to the taps and radiators; this way; you'll never run out of water to shower or tea to make.
Gas boilers are extremely common and make up the majority of installed boilers in the United Kingdom, making up around 80% of total boilers.
Installing or upgrading to a new gas boiler is made easier if you first determine which of the following gas boilers suits your needs best: the regular gas boiler, the combi gas boiler or the system gas boiler.
What is an electric boiler?
Rather than relying on natural gas, electric boilers convert electricity into heat to warm up the water that provides heating for your home and taps.
An electric boiler is more uncommon than a gas boiler; but they're a good solution if your home isn't in proximity to a gas line.
Electric boiler vs gas boiler: What are the pros and cons?
In summary, a gas or electric boiler type is right for you when you account for all the different things such as the energy efficiency rating of your home, maintenance, and cost.
In order to make it easier for you to make a decision; here's an at-a-glance overview of the advantages and disadvantages of gas and electric boilers: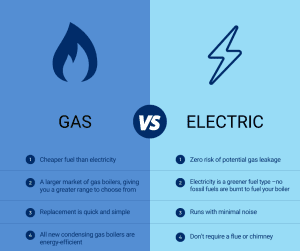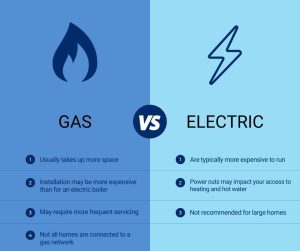 Upgrade to an Air Source Heat Pump
The Boiler Upgrade Scheme (BUS) is a UK Government initiative to encourage more people in England and Wales to install low carbon heating systems; such as heat pumps and biomass boilers.
How does a heat pump work?
Electricity is used to extract heat from the air outside and bring it inside; so you get more heat with less electricity consumption. Air-source heat pumps give you comfortable, consistent heating and hot water. But with…
Less energy
Heat pumps use 4x less energy than even the most efficient boilers to generate the same amount of heat.
Less carbon
That efficiency means you'll instantly slash your heat carbon footprint by 75%. Plus; they run on electricity, which gets greener every year.
Less maintenance
A heat pump can last 20 years – about twice as long as a boiler – and needs less pricey maintenance.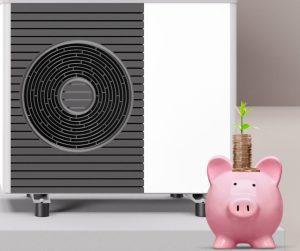 If you are a property owner who is interested in installing low carbon heating at your property; please visit our page and chat with one of our experts.
Searching for a new boiler?
Let SwitchedOn help you…
Get an online boiler quote with SwitchedOn and find the right boiler for you with us.